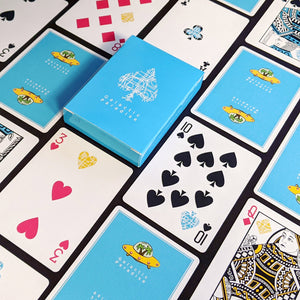 DINGED - Galactic Paradise: Surf Blue
Regular price
$15.00
Sale price
$25.00
Unit price
per
This is a dinged/dented item. Small-to-medium tuck imperfections and possibly a few bent card corners. A great excuse to open a deck! 
The Surf Blue edition of GP takes the classic v1 design and reimplements it in a gorgeous blue colorway. Soak up the sun!
Printed by MPC with BETA finish in a sealed-base tuck. Edition of 100.
---